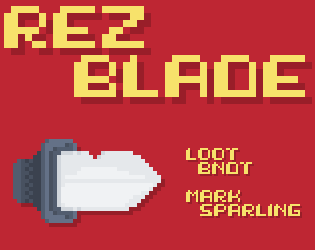 Rez Blade
Rez Blade
Here is my submission for the LOWREZJAM with music and sound by the awesome Mark Sparling go check him out @Markymark665 on twitter!
Play as a sword wielding adventurer, taking down evil across the land! Time your shots to maximise your combo but be careful not to miss as you will be punished by the enemy!
Controls -
Left / Right - move blade
Up arrow - attack
Space - drop item
F - fullscreen (probably better)
R - restart on 'game over'
As with most ideas I got carried away and wasn't able to add all the extra cool stuff I had planned. I got the basic mechanics in with the overworld/battlemode which could be easily expanded upon! I might continue the working on the idea after the jam, so if you have ideas and suggestions make sure to let me know!

*spoiler stuff maybe*
your hit box is the green gem on the blade during battles
x5 combo will heal 1
x10 combo will heal 1 +(if at full hp increases max hp by 1)
during a death fight missing a heart decreases max hp!
upgrade 1 Shield - gives you a shield that lets you miss/get hit once during a fight
upgrade 2 Laser - charge by landing 3 hits! Down arrow to fire
upgrade 3 Ice - chance to slow enemies on hit